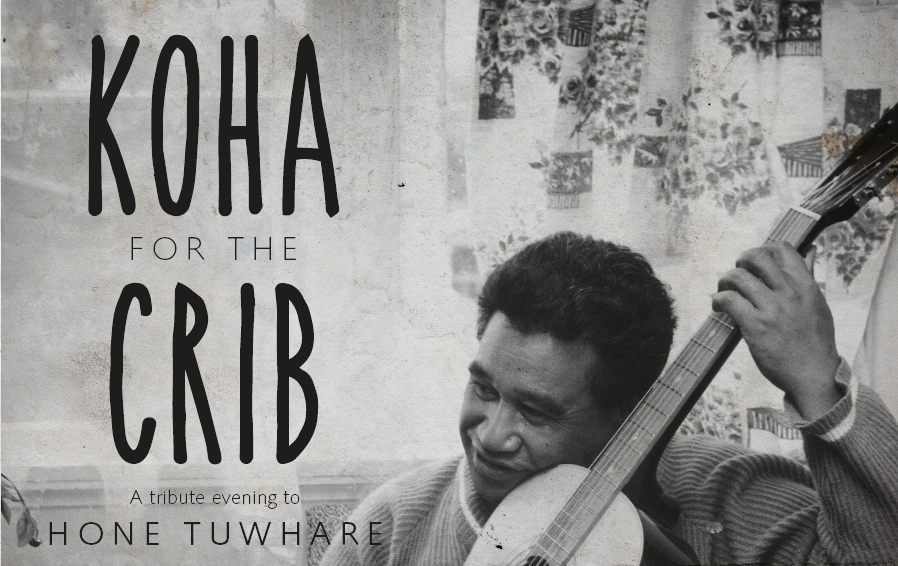 Saturday 18 October @ 7pm
Toitu – Foyer
31 Queens Gardens, Dunedin
Koha for the Crib aims to preserve the legacy of Hone Tuwhare by raising funds to establish a new writers' and artist' residency at Kaka Point, South Otago. The crib and purpose-built residency and studio will be the first to be established in the home of a Maori writer.
Koha for the Crib will include performances by musicians Don McGlashan, Rio Hemopo, Graham Downes, Martin Phillipps, David Kilgour, and Ciaran McMeekin, and poets Emma Neale, Majella Cullinane, Sue Wooton and Peter Olds.

Hone's love of food will be celebrated through chef Scott Murray who has designed the menu based on the tastes of locally gathered, hunted and sustainably farmed food. Koha for the Crib will include a charity art auction of limited edition prints lead by Marshall Siefert as Auctioneer.
The auction will include works from graphics artists Catherine Griffiths, Sarah Maxey, Kris Sowersby, and Matt Galloway, as well as a limited edition Chills box set.