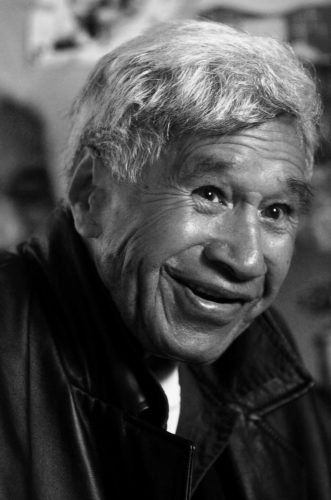 Hone Tuwhare is widely regarded as one of New Zealand's most accomplished and treasured poets.
The Hone Tuwhare Charitable Trust was established to purchase and restore Hone Tuwhare's crib, develop resources for schools and initiate events throughout Aotearoa that celebrate Hone and his contribution to the Arts.
You can find us on Facebook or read our most recent newsletter here: Tuwhare Trust Newsletter 2016
Our kaupapa:
"To inspire people through the preservation, promotion and celebration of Hone's legacy"
Trust objectives:
To purchase and restore Hone Tuwhare's crib at Kaka Point, South Otago, for use as a writers' residency – the first to be established in the home of a Maori writer.
To create a visitors' centre that will be open to the public, available for school visits etc.
To support the development of resources for schools and kura kaupapa Maori, in English and Maori, covering poetry, writing, self-expression and Hone's life and work.
To initiate events that celebrate Hone's contribution to the arts in New Zealand e.g. an outdoor concert on Hone's birthday, performances of his plays, poetry in schools etc.
While the writers' residence will be located in South Otago, the trust will have a nationwide focus.
For further information please contact:
The Chair
Hone Tuwhare Charitable Trust
PO Box 6247
Dunedin North
Dunedin 9059
Email tuwharetrust@gmail.com
All poetry used on this website with the permission of the Estate of Hone Tuwhare. Copyright and publishing rights for all poems are held by Rob Tuwhare on behalf of the Estate of Hone Tuwhare. For permission to reprint, perform, or display Hone's work please email HoneTuwharePoetry@gmail.com